Volunteering: An American Tradition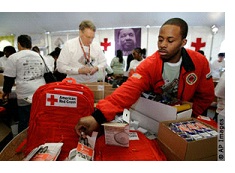 "I have seen Americans making great and sincere sacrifices for the key common good and a hundred times I have noticed that, when needs be, they almost always gave each other faithful support." – Alexis de Tocqueville, 1835

By Susan J. Ellis and Katherine H. Campbell

In the United States, just about everyone, at one time or another, has been a volunteer. On any given day, millions of Americans give of their time and talents to benefit their communities through volunteer service. Volunteering is so pervasive in the United States that it can be observed daily in almost every aspect of life.
In a typical year, about one-fifth of the American population, more than 62 million people, serve as volunteers, according to U.S. government statistics. They contribute more than 8 billion hours of service to local and national groups, valued conservatively at $173 billion.
The roots of U.S. volunteerism are far reaching and deep. Americans have been banding together to help one another since colonial times. The settlers of the new American colonies all had the same priority: survival. Physically, the land was a wilderness, and socially, most familiar organizational structures were missing. Cooperation frequently meant the difference between life and death.
Neighboring farmers combined efforts to clear land, build houses and barns, and harvest crops. Quilting parties and spinning bees were common occurrences, as were "whangs," gatherings of women who helped each other with annual housecleaning. Church buildings were built by volunteers, and town records are rife with references to donations of land, materials and money, all given voluntarily so that each community could have its own place of worship. Volunteer efforts by both men and women were called "changing works."
As the first settlements became small cities, new ways of voluntary action evolved. Early street lighting was a shared responsibility of homeowners who rotated the hanging of lanterns at their front gates. "Sunday schools" were started so that poor children, working at jobs for six days a week, could be taught to read on their single day off, from the Bible.
As early as the 1600's, colonists formed citizen fire brigades to combat fires in Boston, Philadelphia and New Amsterdam (later New York), and in 1736 Benjamin Franklin formally organized Philadelphia's volunteer fire company, consisting of "thirty volunteers who equipped themselves with leather buckets and bags and baskets." The concept quickly spread throughout the colonies and persists today, when more than 70 percent of firefighters in the United States are volunteers.
Three and a half centuries later, volunteerism imbues American society. Volunteering, because it is so pervasive, often goes unrecognized. Most Americans probably never contemplate the role of volunteerism in their day-to-day lives and never ask themselves:
Who donates blood?
Who runs the parent-teacher organizations in schools?
Who works to preserve historical landmarks?
Who passes out political campaign leaflets and registers citizens to vote?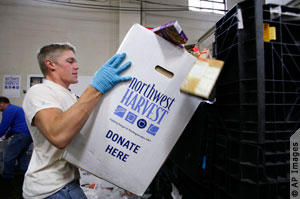 A volunteer lifts a box full of donated food at the Northwest Harvest food bank in Seattle.
Who uses ham radios to relay calls for help?
Who leads 4-H Clubs? Scout troops? Youth sports teams?
Who blogs, tweets, and uses other forms of social media to advocate for political and social change?
This list only skims the surface, but it illustrates the diversity of volunteer activities in which Americans engage.
Americans volunteer not because of coercion or profit, but because they recognize a need and are willing to take responsibility for meeting that need. But because they assume this responsibility in addition to their everyday jobs and duties, and because they do not seek monetary reward, volunteers themselves often underestimate the impact of their work.
Most historians, too, have overlooked the magnitude and diversity of contributions made to U.S. history and society by volunteers. However, the cumulative effect of countless voluntary actions, occurring as they do in every part of the United States and in every decade, makes it apparent that many aspects of American history and culture have been shaped by volunteers.
The role of volunteers in the United States has always been that of pioneer — to recognize significant issues and needs well before government or other institutions do and to provide services to address those needs.
Volunteering does not happen in a vacuum; it has always been shaped by changes in demographics, family composition, employment patterns and economics. For example, with equal numbers of women and men now in the work force, many U.S. companies have established corporate volunteer programs, encouraging their employees to volunteer by offering release time ranging from a few hours a week to a year's sabbatical.
And with people over 60 constituting the fastest growing segment of the population, some U.S. volunteer organizations for senior citizens have responded by lowering their age requirements, attracting active Americans in their 50s and 60s to serve the burgeoning number of octogenarians and beyond.
The explosive rise of the World Wide Web has changed everyone's lives and affected volunteering, too. First, it should be noted how important volunteers were and still are to the development of the Web itself: open-source programmers, online community hosts, and countless unpaid bloggers are all contributing to this global exchange forum.
The Web also gave birth to virtual volunteering, in which someone located anywhere in the world, at whatever time of choice, can provide online service. This can be anything from editing reports to translating documents, but also giving technical assistance or mentoring a young person via e-mail and voice-over-Internet calls.
Technological convergence, too, is having an impact on volunteering. For example, smart phones are allowing micro-volunteering, in which someone can do small tasks in a few minutes through Internet-connected calling.
Looking toward the future, it seems safe to predict that the causes served by American volunteers will continue to change; the presence and commitment of volunteers will not.