Mexican Government awards highest honor, The Ohtli Award, to a NE Ohio Hispanic Advocate
By Hugo Urizar
Mercohispano.com (9/11/2015)

Dr. María José Pujana, MD of Westlake, Ohio is one of the recipients of the 2015 "Ohtli Award." She was recognized for her years of work and success in helping the Hispanic/Latino and Mexican communities throughout the Northeast Ohio region.
This Award is one of the highest and very limited distinctions given by the Government of Mexico to distinguished individuals of Mexican or Hispanic/Latino origin.
The Ohtli Award, which consists of a medal, a silver rosette, and a diploma, was conceived to recognize and honor Mexican, Mexican-American or Hispanic/Latino leaders whose efforts have contributed significantly to the wellbeing, prosperity and empowerment of Mexican communities abroad. Ohtli is a náhuatl word that means "pathway," or "camino" in Spanish.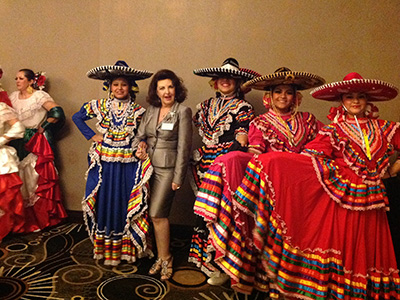 Dr. Pujana, who is the first person to receive this honor in the North East Ohio region, was instrumental in the formation of Ventanilla de Salud at MetroHealth Hospital earlier this year. She is a champion on Hispanic issues related to health, education, economic development and the arts through her involvement with institutions like The Cleveland Foundation, MetroHealth, The Cleveland Red Cross, The Cleveland Museum of Art, The Cleveland Institute of Art and The Beck Center for the Arts, among others.
Past recipients of the "Ohtli Award" include: U.S. Secretary of Labor, Hilda Solís, the President of the Educational Fund of NALEO, Arturo Vargas, the Editor of "La Opinión" in Los Angeles, California, Mónica Lozano, renowned labor leader Eliseo Medina, the President of the United Farm Workers of the United States, Arturo S. Rodríguez, the President of the National Council of La Raza, Janet Murguía, former Governor of New Mexico, Bill Richardson, the President of the Hispanic Leadership Institute, Dr. Juan Andrade Jr., Congressman and Chair of the Congressional Hispanic Caucus, Charles Gonzalez, Actor, Producer and Director Edward James Olmos, the Coordinator of Ventanilla de Salud (Mobile Health Window) in SW Kansas Arturo Ponce, just to mention a few.
Dr. Pujana will receive this award from the Honorable Consul of Mexico in Detroit, Michigan Mr. Juan Manuel Solana Morales on Tuesday, September 15, 2015 during a ceremony in commemoration of the 205 anniversary of the Mexican Independence Day.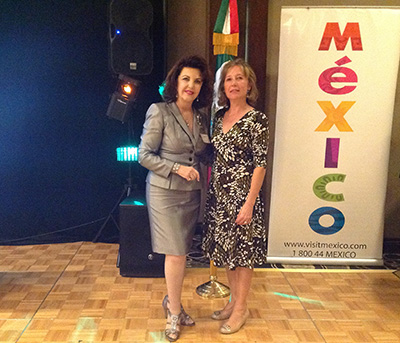 María Pujana with Mrs. Coral López Gómez, Honorary Consul of Spain in Michigan during a 5 de Mayo celebration in Detroit, MI.