Elect
ED FITZGERALD
for Governor of Ohio 
Efficiency. Responsibility. Transparency. With those values in mind, Ed has had great success in cutting wasteful spending. Ed knows that we need to put government back on the side of the middle class. We need to stop giving huge tax breaks to those who've already made it and use that money to bolster Ohio's workers and manufacturers, teachers and first responders — the families that make our state great. Making Columbus run more efficiently. Creating a tax code that is fair, honest, and not skewed toward the wealthy and powerful.
Jobs
Job creation and economic development are critical to the future of Ohio. Ohio can't create the jobs of the future without also investing in an educated workforce qualified to fill them — and Ed is ready to work with state and local officials, on both sides of the political spectrum, to get things done. And those jobs need to pay a living wage — one large enough for working Ohioans to raise a family and pay the bills. We also need to take steps to protect our workers and public employees: from our teachers to our police and firefighters.
Protecting Workers
Ohio working families are the backbone of our state. They take pride in their work. And they deserve all the protections their hard work earns them. From our factory floors to our school rooms, Ed stands firm with Ohio's workers. The contrast in this area with the current apparatus in Columbus couldn't be more stark. Their plan for Ohio working families was SB-5 — which could have stripped workers of their ability to negotiate with their employers. Ed's plan: Stand with workers. Plain and simple. Ed wants Ohio's state government on the side of the people.
Having an open and transparent process is the key creating a government that is smaller, more efficient, and more effective.
Education
As Cuyahoga County Executive, Ed has made unprecedented investments in our children. They implemented a universal preschool program to make sure children get the head start they need. They invested in our schools and teachers. And under Ed's leadership, Cuyahoga is the first county in the country to establish a college savings plan for every child within its borders. And whether we're talking about early education or higher education, improving our schools or taking care of our teachers, Ed is is ready to lead Ohio's education system into the future.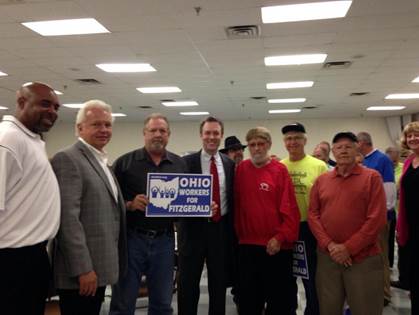 Running Mate - Sharen Neuhardt
Paid for by Friends of FitzGerald-Neuhardt